Roulette is a casino game played with a large wheel and a small ball. Participants place bets on a table adjoined to the wheel. Once all bets are set, the croupier spins the wheel and drops the ball in. A roulette wheel has numbered pockets. When the wheel comes to a stop, the croupier uses the index of the pocket where the ball rests to determine which wagers won and which lost.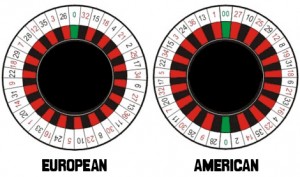 European Roulette
The European roulette wheel has 37 pockets numbered zero to 36. Other than zero, half the numbers are even, half are odd and half the numbers are red, half are black. The zero is a color other than red and black and is traditionally green. The odds on a European wheel are 37 to one, but a wager placed on a single number only pays out 36 to one, which means that there's a 2.7-percent house edge.
French vs. European Roulette
French and European roulette use the same wheel; the difference lies in the rule set. Roulette was invented in Italy but acquired widespread popularity through France. The French added the La Partage rule: When the ball lands on zero, half of all even-money bets is returned to the bettors. Throughout Europe, the En Prison rule became more common. En Prison is similar to La Partage except that the croupier spins again to determine the outcome.
American Roulette
The American wheel has 38 pockets. The additional pocket is a double-zero. The additional zero increases the house edge to 5.26 percent, which is significant. The double-zero format was common throughout Europe in the 1700s and later as well, but it became forever linked to America due to its prevalence in Las Vegas at a time when casinos were beginning to flourish throughout the world.
American vs. European Roulette
Since European roulette has a 2.7-percent house edge and American roulette has a 5.26-percent advantage, there is no real comparison. All other factors being equal, the European wheel is always a better option for players because the odds are more in their favor.
When American Roulette Makes Sense
The factors aren't always equal, however. In an actual casino, roulette using an American wheel may be the only option. Online, since there'd be no reason to play with an American wheel, casinos will often incentivize the game. An incentive, such as bonus money or cash back can have a significant effect on the overall value for that individual player.