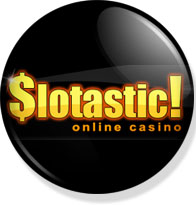 Live dealers (and croupiers) are not just a fad anymore. Online gamblers are flocking to them droves, and online casinos are responding by adding tables and features. The casinos that have not added live dealers may soon find themselves unable to compete in this competitive marketplace.
About Slotastic
Slotastic Casino (often stylized $lotastic!) is one of many online casinos expanding their portfolios with live games. Despite the name, Slotastic is a full-featured online casino with excellent bonuses and a wide range of table games, but the one thing it did not offer was a live experience — until now.
Slotastic Live Roulette
Slotastic already has a number of roulette wheels up and running. Each wheel can accommodate multiple players, and some of the tables feature an American wheel (double zero) while others feature a European wheel (single zero). In addition to roulette, Slotastic offers baccarat, blackjack and even Casino Holdem, which is a form of poker played against a dealer rather than other players.
Roulette Specifics
The standard roulette tables, which are the most popular, require a minimum bet of $5 and enforce modest maximum bets. The casino is planning to add additional tables to handle the influx of new membership, but during peak hours, there is often more demand than available seating. Clients can wait or opt for one of the high-roller tables, which usually always have available seating. The high-roller tables require $50 and $100 minimum bets but also offer individual attention by a host and allow for VIP betting limits already in place.
How It Compares
Powered by RTG, the Slotastic product is a familiar one but also a high-quality and reliable one. The croupiers are all young woman who are natural English speakers and do an excellent job of socializing with the players at the table during spins and in between.